Dear CMG Families,
We hope this message finds you warm and safe! Due to the severe weather, we have delayed our reopening until Monday, February 22nd. In case you missed our last message, here are the details:
Temporary Location and Hours
Our temporary space is located at 711 W. 38th Street, Suite G2, Austin, TX 78705, which is about 1 mile from our current office. Some of you may have already visited this office, because it was in fact the original location of CMG! The space has been renovated since Dr. Bell moved CMG in 2010 and we are fortunate to have a familiar home for the short term.

Our temporary hours of operation will be 10:00 am to 2:00 pm, M-F. Appointments during this time will be reserved for well visits only.

Our wonderful call partners will continue to be available to assist us with seeing sick patients for the time being. Outside of these hours you may reach us through the patient portal with routine needs such as refill requests and forms.
When You Arrive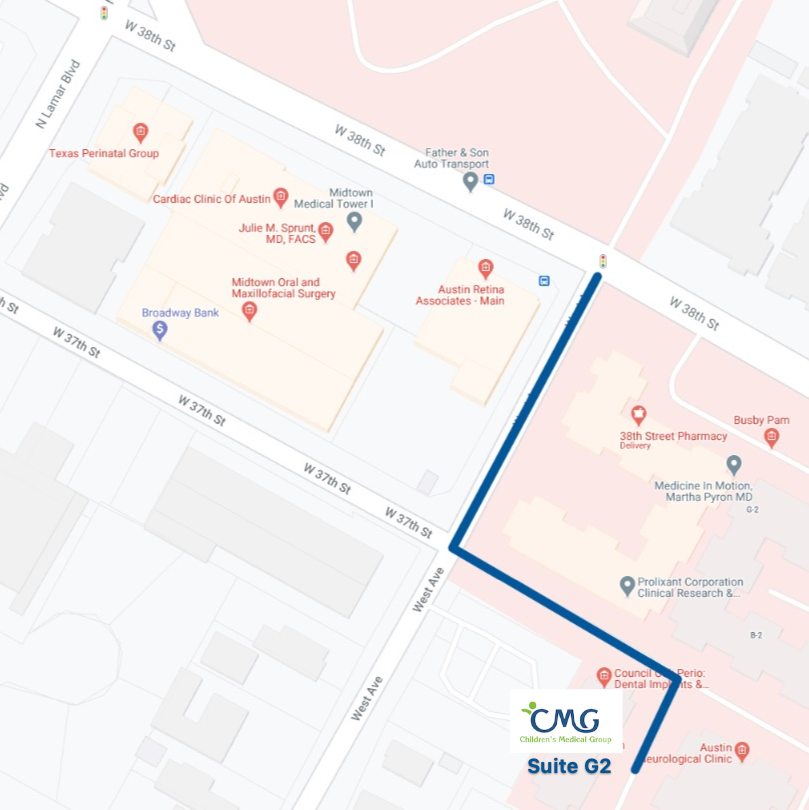 We will continue to operate under our existing COVID protocols, as follows:
Please call us from your car when you arrive in the parking lot. A staff member will check you in over the phone, ask our COVID screening questions, and direct you when to enter the office.
Every visitor must wear a face mask and only one parent per child will be allowed inside for the visit.
New Safety Measures
Given our recent tragedy, we are taking the safety of our staff and patients very seriously. These policies will be in place in our temporary location:
Our office doors will be locked at all times.
Only approved visitors will be allowed inside, after you have spoken with our front desk and cleared our COVID questionnaire. Once we have checked you in over the phone, we will meet you at the door to let you in.
We will have a uniformed Austin Police Department officer inside the clinic to help manage entries, exits and general security.
Please let us know if you have any questions about our new policies and prepare your children so they know that our APD officer will be there to help keep them safe.
Our Commitment to You
We do want you to know that we intend for CMG to resume full operations and remain a part of this community that we love so much. It may take us a little time, but we will get there. Thank you so much for your love, support and understanding as we begin to pick up the pieces and move forward.

We cannot wait to see you all soon.

With Love,
Your CMG Family