4/17/20
Dear CMG families,
We hope everyone has been enjoying the beautiful weather this week. Thank you all for keeping your children healthy. We know everyone is working hard to socially distance and keep their sanity. We continue to hear amazing stories from our families of courage, strength and grace.
We want you to know we are here for your children if you need anything. Please see below for updates.
Office Procedures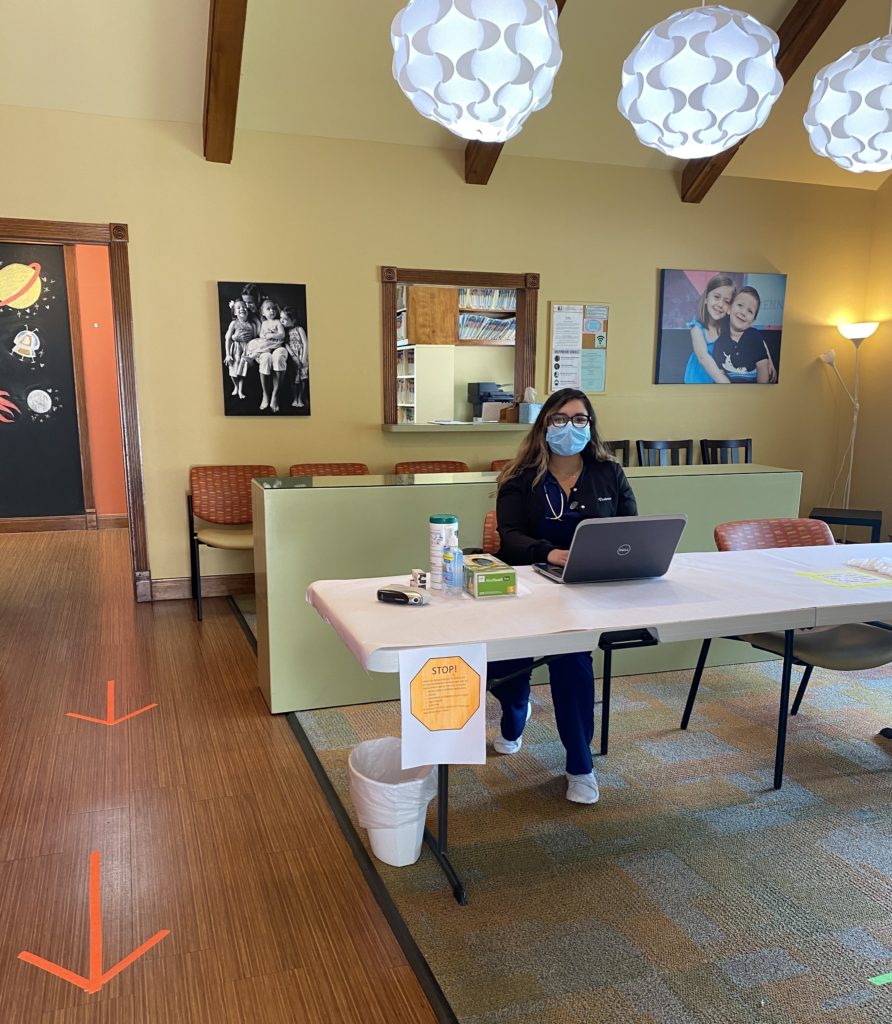 Our office looks different than it did a few weeks ago. We are doing our best to keep everyone safe who needs to enter the building. Please call the office at 512-451-5161 before entering to help us manage how many people are in our lobby. We are allowing only one family in at a time.You will be screened as you come into the building.
Someone will be at the entrance to check your temperature and ask you a series of screening questions. We do not want any unanticipated illness in the office. If you do not have a mask, we will provide one for you. We continue to ask for only one parent to accompany each child to limit contact in the office. If you pass the checkpoint, you will be directed to check in and escorted to a room.
Telemedicine appointments at CMG
We continue to see most of our acute visits via telemedicine.  We are still using the platform doxy.me and our process of appointment scheduling has not changed.  Many insurance companies are now waiving telemedicine copays (please check with your insurance provider for details) which means these visits will be free for many of our families.  These appointments allow us to give advice and prescribe medications without contact or potential exposure. We are slightly limited in these video exams, but if further evaluation is needed, we can complete the remainder of the exam in the parking lot later that day.
Well Child Visits
We are continuing to see our routine well child checks in the morning. If your child is not due for routine vaccinations, we will call you to reschedule your appointment. We are planning to readjust our schedule for morning well checks at least through the middle of June. For more details please review our latest policy on our website.
Older Children with School and Camp Forms
Many children need physicals for school and overnight camp. If your child has had a well exam in the last year, most of these forms can be completed based on that visit. If your child has not had their annual exam in the past calendar year, we will be opening up another time in the office between 1pm and 2pm to see children for well checks who do not need vaccinations. These appointments will begin in May and continue for the duration of our adjusted schedule.
Social Distancing / Masking
The vast majority of cases continue to be due to direct contact with an infected person. We encourage all of our families to continue to practice social distancing along with wearing a mask or face covering in community settings. The CDC and AAP now encourage all children over 2 years of age to wear a mask if within 6 feet of other people. Please continue to wash hands frequently or use hand sanitizer. Do your best not to touch your face when your hands have not been cleaned.
Children and COVID-19
The disease continues to be very mild in children, especially those less than 14 years of age. Children with chronic illnesses are more at risk for serious illness. This includes children with obesity and asthma. Please continue your child's controller medications for asthma. It continues to present in children with mild flu-like symptoms. COVID-19 can cause fever, cough, sore throat, congestion, vomiting and/ or diarrhea. It has also been linked to prolonged fatigue, headaches, and muscle aches. In older children, it can lead to loss of taste and smell. As of today, there are still no confirmed cases at Dell Children's Hospital.
Testing options for COVID-19
Testing options are expanding. The current test being performed is a PCR test, which usually involves a nasal swab and can take 1 to 7 days to come back, which can be run through CPL. We have not received the antibody test as expected. There have been issues with FDA and final approval, along with companies producing tests without FDA authorization. St. David's and Seton facilities will be receiving rapid PCR testing soon for much quicker results. We assume this eventually will make its way to the outpatient setting.
Family Stress
This is an incredibly stressful time for everyone. One of our teachers sent this message and we thought it was beautiful enough to share. We are all doing the best we can. We encourage you to get outside, take deep breaths and let your kids be kids. Mindfulness can be an incredible tool. Turn off the news and try to talk about something besides COVID-19. The American Academy of Pediatrics continues to have some great resources about both positive parenting and working from home while teaching your children.
Plasma Donations
Plasma exchange is being explored as a treatment for COVID-19 for the severely ill. If you have had the disease and recovered, you can donate your plasma to save others. Travis County Medical Society is directing everyone to We Are Blood for evaluation and donations.
Please feel free to contact us with any concerns or questions. We are so proud of our families and the love and care you are giving your children. Try to enjoy the time you have together.
As Dory says, "Just keep swimming Just keep swimming."
All our best,
Children's Medical Group